For outdoor-loving, adventurous Aussies, electric mountain bikes have become a fantastic way to enjoy the rush of natural exploration. What initially started as a niche interest in Europe has rapidly become a key part of life for many local people. As you dream about your glorious rides on the rocks, steep climbs, and mountain pass racing once the lockdown is over, one of the products to consider are the electric dirt bikes and other fat tyre variants. In this article, we will explore the best electric fat tyres that money can buy this year.
Best Electric Fat Tyre Electric Bikes in Australia
---
Fat Tyre Electric Bike Review
Progear Fat Tyre Electric Bike E-Blast
Design and Engineering Specifications
This E-blast fat tyre mountain electric bike comes with powerful, rust-resistant alloy wheels. For maximum safety on high impact rides, its design integrates the powerful tektro disc brakes with a tektro alloy 2 finger lever and delivers high grip, and tensile strength regardless of terrain. For its front and rear hubs, it uses the 180 and 240 inch Joytech Alloys respectively.
---
NCM 26 Inch Fat Tyre Electric Mountain bike
Design and Engineering Specifications
This beauty comes in with a bang with an incredible 250W of brushless motor power and delivers top speeds of about 25 km/h. At 38kg, this fine piece is also perfectly weighted. This beauty comes with 48V 13Ah of lithium battery power, a full suspension system and alloy rims of great quality.
---
Folding 26 inch Fat Tyre Electric Mountain Bike
Design and Engineering Specifications
Although the design specifications of this dandy emphasize lightness and comfortability, you can be sure that it has built in strength with its HL intermediate shock absorber and T500 powerful motor to boot. At about 28.5kg of net weight, the folding 26 inch fat tyre can match lighter variants reaching top speeds of about 25 km/h consistently. It takes 5-7 hours to reach full charge and holds that charge with its powerful 48V 10Ah lithium battery.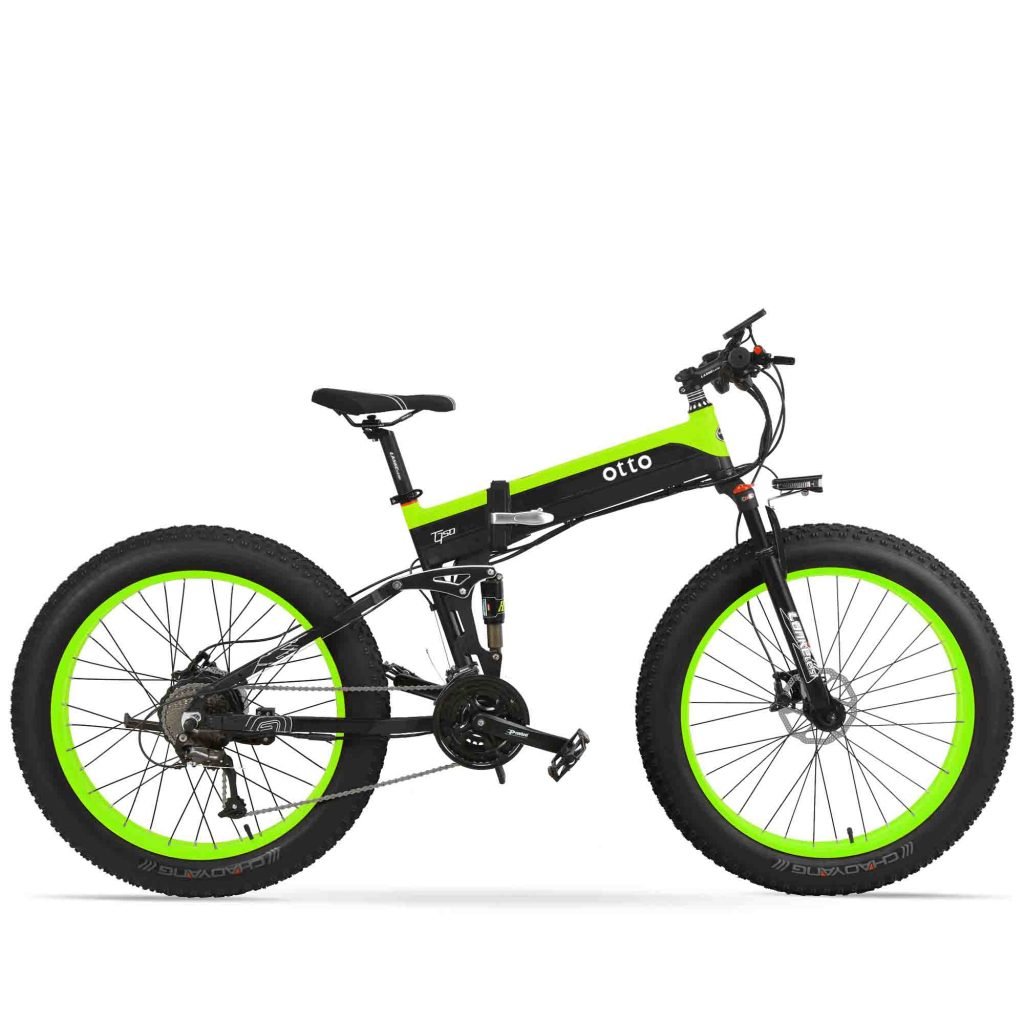 ---
Fat Tyre 27 Speed Super Mountain Electric Bicycle
Design and Engineering Specifications
This fat tyre electric bike comes with a frame that all but guarantees that it will outlast everyone. It also comes with a locked suspension fork and a reliable 350W brushless motor. This fine piece of engineering takes a minimum of 5 hours to reach full charge and its 48V 18Ah batteries can reach 55km with power assist.
---
Otto Fat Tyre Electric Bike
Design and Engineering Specifications
At 26 inches of wheel, this machine has a maximum load capacity of about 120 kg. It also has an LCD screen and six levels of rider assistance. To ensure that your rides are as safe as can be, this machine integrates a tektro hydraulic, powerful brake sensors and the undisputed hydraulic tektro disc brakes. For power, the Aspen Plus has a Das-Kit, X15F, 48V 250W, rear hub which acts as a sturdy propellant across a wide variety of high friction terrains.
---
SafeWay 26 inch Wheel Fat Tyre Electric Mountain Bike Bicycle
Design and Engineering Specifications
The SafeWay Fat tyre Electric Mountain Bike comes with a prestigious aluminium frame and 26 inches of prime juggernaut fat tyre. This brawny speedster has a 36V lithium battery and 250W of motor power and can reach speeds of upto 30km/h. With pedal assistance, this machine can go for 60kms without any extra charge. To add to an already impressive retinue, this beau comes with front and rear safety reflectors and a tool kit for your complete convenience.
---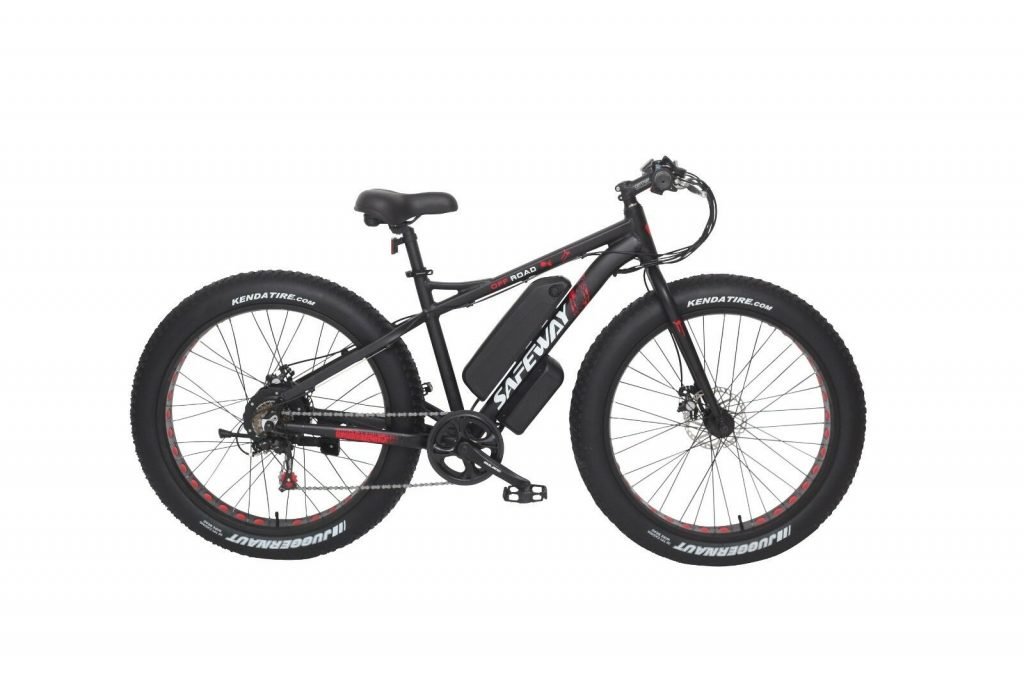 ---
NCM bike 26 inch Electric Bike
Design and Engineering Specifications
The Same bike comes with a 48V 13Ah battery. It also combines durable alloys with spritely aluminium to achieve a formidable combination of both beauty and power. It has a full suspension system that combines well with its mechanical disc brakes for a completely safe experience on your rides.
---
---
Budtrol 36V 20 inch Alloy Electric Beach Mountain Bike
Design and Engineering Specifications
This mountain bike can reach saddle heights of about 100 centimetres. It has a reliable 250W motor and can reach speeds of about 25km/hour. At 120kg of maximum loading capacity and 28kgs of net weight, this light weight machine is an impressive engineering feat. Despite being impressively nimble for such a sturdy piece, it carries alloy wheels, an alloy stem, alloy forks and double alloy rims: This mountain bike is made to last.
---
Rich bit Electric Mountain Fat Bike
The Rich bit electric mountain fat bike comes with an anti-rust alloy frame, 1000 Watts of motor power, and an incredible 26 inch tyre for the best riding experiences. Once it ships, you'll also get accessories such as Mug guards, stabilizers, and reflectors among others.
---
Fat Tyre Vintage Design Electric Bike
The vintage electric fat tyre bike comes with an anti-rust alloy frame, mechanical disc brake, 250 Watts rear hub motor, and a comfortable 20-inch tyre for the best riding experiences. Once it ships, you'll also get accessories such as an Adjustable Seat, Basket, Bell, Display, Fenders, Front Bike Rack, Front Light, Kickstand, Lithium-Ion Battery, Pedal Assist, Rear Light, Reflectors, Step-Through Frame. Thi electric bike is the best fit for seniors.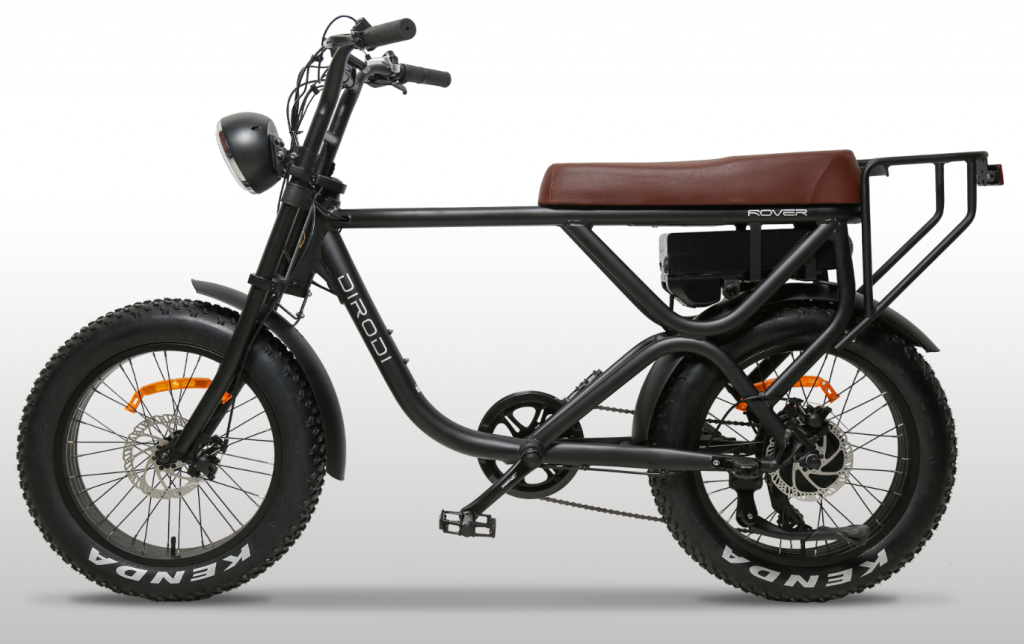 ---
Frequently Asked Questions
Who makes the best fat tyres? 
Your experience of what is best depends to a large extent on the specifics of your use. To that end, the section above might be a useful reference for you. On a general note, Bafang electric bikes are considered a market standard and serve as an OEM for many of the bikes on this list. 
---
Why do electric bikes have fat tyres? 

Most electric bikes feature different sizes of tyres which are generally regarded as "fat". Not only do fat tyres radically improve the experience of electric biking, they are also a design and engineering necessity as they allow riders to traverse high friction, high impact terrains with little or no lag in performance. 
---
Are fat tyre bikes good? 

On many metrics, they certainly are! 
They improve general health and well being and contribute immensely to environmental sustainability. They also provide a safe way for explorers and adventurers to discover new worlds. 
---
Who makes the best electric bike? 

That decision will depend a lot on what features you prioritise in your daily life. In my opinion, the 20 Inch Electric Mountain Fat Bike High Power Ozzie Twisted S does it for me. With a speed limit of about 45km/hour, its lightweight, and its inherent strength makes it an indomitable option for a wide range of high-octane, outdoor activities as well as normal commutes to and from work. 
---
Conclusion
Regardless of your experience with the outdoors, these electric mountain bikes are sure to serve you for a long, long time. Not only will they bring fun new experiences to your life, but they are also certain to help save the environment and foster your health and well being in the process. 
Remember, the key to an enjoyable experience with your new electric mountain bike is to learn as much as you can about what it is and how it works before you make your purchase.