Today, tricycles are making a comeback – as electric tricycles.
The combined advantage of seamless mobility, sturdy carriage, and ergonomic convenience makes it a choice for adults, seniors, and anyone who wants the rush of a cushy ride in the park complete with the assurance of safety and the knowledge that the environment is being tended to and catered for.
Searching for and, finding the right model of an etrike can be quite tasking. This is because there are a large number of electric trike models, designs, and builds that cater to the same market each in a slightly different way. Although most builds have the same basic structure, small differences in customization and power can yield large disparities in your enjoyment and experience of these amazing machines. 
To that end, check out our simple guide to electric trikes that provides you with the necessary information to make the right decision whenever you have to deal with the next "adult tricycle for sale" poster.
Review of the 3 Best Electric Tricycles for Adults in Australia
---
Popular 24 Inch Adult Electric Tricycle with Walk Mode
This popular etrike comes complete with a powerful strong steel frame with Walk Mode. It also has chrome-plated handlebars to give off that sense of prestige, a promax adjustable stem for easy customization, and a rear disc brake to ensure safety on wheels. Equipped with 250W DC Brushless 36V Motor and BLCD display panel. Click on the below button to Buy.
---
Trike Bike 26 Inch Adult Electric Trike
This powerful 3 wheel electric trike bike comes with a durable steel frame, steel forks alloy cranks, brake levers, and a powerful rear disc brake. This reliable etrike also leads the pack as a gold standard for safety with its easy rolling, 24 * 1.75, comfortable rubber grip tyres. It's also a loyal shopping companion with its beautiful front and rear storage compartments. Click below to Buy.
---
Fat Wheel Adult Electric Trike
This fat wheel etrike comes with a front-wheel diameter of 24 inches and a 24-inch rear wheel – a guaranteed rush even in the roughest of terrains. This electric trike guarantees a combination of durability and power with its alloy frame and a 48V/250W motor to match. Although this fine metal packs a lot of power, its mechanical disc brakes also make sure that your safety is never in doubt. Click below to buy.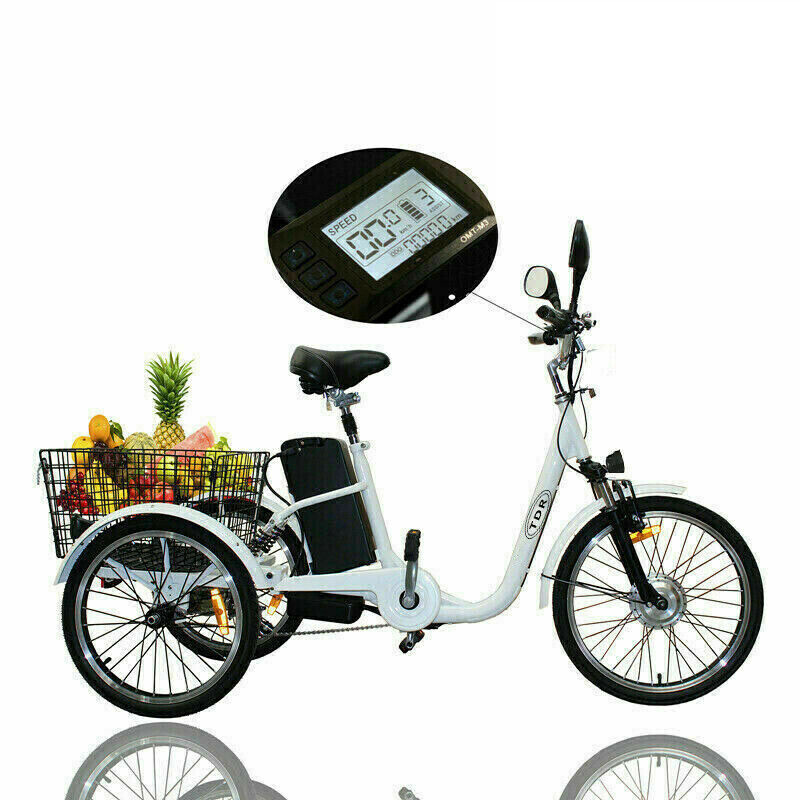 ---
What are the differences between these popular Electric Tricycles?
Although all adult electric tricycles come with the basic premise of getting you from one place to the other, some of them focus on adapting their powerful motors and rugged rubber tires to deliver exceptional speed, others provide storage room and a comfortable shopping companion. Check out the comparison below to get a deeper feel for the various models above, how they differ and how they can deliver an exhilarating experience to you.
The popular 24-inch adult e-tricycle comes with a nice set of wheels that make riding joy and like the others, they have a steel frame that holds everything in place. For everything this machine is, what it lacks is the steady, durable charm of the 26 inch three-wheel electric bike with its alloy cranks that guarantee a rust-free life cycle and a 26-inch rubber grip tyre to rival any on the market. Although the popular 24-inch electric tricycle packs a bit of a punch with its rear side storage compartment, the 26-inch motor trike does even better with front and rear compartments for the ultimate shopping experience.
If you like to feel the power under you when you ride, the 250W fat wheel e-tricycle is your go-to. With 24 inch front and rear wheels, it can bear the brunt of a rough patch of road or a speed spin in the wild. In addition to its many features, this 3 wheel etrike also has a stable ergonomic shape that makes it a useful option for the taller folk. While this machine will totally rock your world, it also has your back. Its mechanical disc brakes will keep you steady as you roll back the years to enjoy a fun run or a day out in the sun.
---
Frequently Asked Questions
Which is the best electric trike?
This depends entirely on the particulars of your use. For some people, a slow ride to the park and back home will suffice and for these, the popular 24 inch adult electric tricycle will do the trick. For others, getting around supermarkets and shopping centres is a priority and for this purpose, you might want to check out the 26-inch silver tricycle with its large storage compartments. If you are into power machines and like to do a little racing and some rough terrain climbing, look no further than the 250W electric fat wheel trike as its unique set of features perfectly complements that end.
---
What is the best electric trike for adults?
For most adults or senior citizens, I would recommend either the soft riding, popular 24-inch model. To varying degrees, it delivers a combination of durability and storage capacity which many elders will appreciate.
---
How do you ride an electric tricycle?
Riding an electric tricycle is no hassle at all. The key thing to remember is that riding an electric tricycle is different than riding a bicycle or a manual tricycle. Because motion is electrically powered, turning, maintaining your balance and riding can make for a bit of an adjustment. As with just about everything in life, a little bit of practice goes a long way. So, hop on and squeeze.
---
---
Conclusion
Want a break from the strain of manually pedaling around on old bikes? Let the electric tricycle be your muse. It's easy to use, efficient and a great tool to have at home. It's also helping to save the environment. Whatever you do, think first about your need and how you intend to enjoy using your tricycle as you make a decision. My personal favorite is the Popular 24 Inch Adult Electric Tricycle with Walk Mode electric tricycle as it combines everything you need in a safe, durable trike with a few things that you might want on a rough day in the spanking sun.