As more and more people continue to opt for electric bikes, E-bike conversion kits make it possible to enjoy the pleasures of electric biking without breaking the bank or giving up the sweet nostalgia of our treasured old bikes. With an electric bike kit, all you need is a mechanical bike and a kit.
Before you opt to buy an electric bike kit, it is important to know what is preferable for your unique situation as there are several types. You may choose to go for a e-bike conversion kit that powers the bike from the rear (a rear-end kit). Conversely, you can choose to buy a front end E-bike conversion kit or a battery-powered bike motor kit. 
What does buying the wrong e-bike conversion kit mean? 
Well, for one, it can be time-wasting. It can also become expensive and a bad investment if you don't have the right information. If you spend a few minutes skimming the review below, you will get a sense of what each e-bike conversion kit offers in terms of power delivery and surely, make the right decision when you make your purchase.
A Candid Review of 6 E-Bike Conversion kits
1- Monsterpro Front Wheel E-Bike Conversion Kit
Technical Specification 
This beauty comes complete with a 26 by 1.75 rim. It also has alloy wheels and a powerful disc brake. You'll need to charge it for about 4 hours to get about 60 km of travelling range.
Key Features
Brushless hub for noiseless motion, Crank speed sensor for pedal assist and a fantastic LCD screen
Pros.
Comes complete with a design that's ideal for both men, and women.
Cons.
Not recommended for dirt roads as front-hub can be insufficient on a hilly climb.
2 – TDR Electric Bike Conversion Kit 36V 250W 26" Rear Wheel W' Battery
Technical Specification 
Litium ION, 10Ah Hailong Downtube Lithium Battery, 250W, Rear Hub Drive, Thumb Throttle, Display, Lithium-Ion Battery, Pedal Assist
Key Features
Motor Power: 250 W / Maximum Range: Up to 50 km Charging /  Time: 4 Hours – 6 Hours / Brake Type: E-Brake, Suits Disc Brake Or V Brake / Motor Type: Rear Hub Motor
Pros.
Can handle more powerful motors Looks stealthier and more reserved since the electric mount is on the back wheel Wiring is simpler due to the proximity of batteries and the fixed rear wheel axle
Cons.
Takes more time to mount and install compared to the front wheel
3 – Electric Bike Conversion Kit with Battery 36V 350W Brushless Motor Rear Wheel
Technical Specification 
Enjoy incredibly fun while riding your new converted electric bike using this conversion kit. 
Perfect for adventure lovers and bike riders who are eager to go over all types of terrain, this e-bike conversion kit is fitted with a strong and powerful brushless motor of 350 watts, a 26-inch rear wheel rim, and a long-lasting lithium-ion battery, along with the intelligent pedal assistant system, a thumb throttle and a complete set of essential accessories. 
It will ensure an exciting, smooth and safe riding experience even in those hilly areas. 
The highly efficient battery enables you to run over a stretch of approx. 60 kilometres on a single charge. 
Install the conversion kit on your conventional bike and get through the steep paths or trails with ease.
Key Features
Equipped with a 350W brushless motor and 9AH lithium battery with a speed up to 25km per hour
Suitable for disc brake and V brake
Built to the highest international standards, CE, UL certification
Powerful 350W, 36V brushless hub motor
Alloy rim & stainless-steel spokes & powerful controller
Brake levers to cut off the power supply for safety
Crank speed sensor for pedal assist
36V 9AH bottle battery for better power and endurance
Charger with more than 1,000 times cycle-life, Australian Safety Standard
4 – 27.5″ DAS-KIT E-BIKE CONVERSION KIT, 36V 250W, DAS-KIT X15 REAR MOTOR, L6-DISPLAY
Technical Specification
Motor Das-kit X15 (55 Nm power output) Rear Motor Wheel, black, 36V 250W, planetary gear Motor measurements: Installation Widths Motor= 135mm, Diameter= 160mm
Sprocket Ready for freewheel sprocket (up to 7-speed) Brake 6-hole disc brake mount, rim brake possible
Display & Throttle Das-Kit Display backlight, display extension cable approx. 1900mm, 6 Assistant Levels, Thumb Throttle
Controller Sinus Wave Controller 36V, Current 7A, maximum current 15A (1 Sec.), Connections: Motor, Battery, Display, Front light up to 42V Controller measurements: L x H x W = approx. 9,0 x 6,0 x 2,7cm
PAS-Disc (left side only) PAS-Disc (12 magnets) Installation on the right side of the bottom bracket. For bikes fitted with Hollowtech or Octalink bottom brackets, a third party PAS sensor for installation on the right side will be required
PAS-Sensor (left side only) Easy installation, for example at bicycle frame. Distance from PAS-Disc approx. 5-7mm, cable length approx. 950mm
Brake Levers Artek brake levers, cut-off sensor on the left side
Spokes Stainless steel, silver
Rim 26/27.5/29″ hollow section rim, black
Fixing Cable ties included
Weight Rear wheel motor including rim: approx. 4,7kg
Key Features
1x PAS disc
1x Rear Motor wheel
1x Controller
1x Throttle
1x Left e-brake lever
1x Right brake lever
1x Display
1x PAS sensor
1x Motor connector cable
1x Display connector cable
User Guide
*IMPORTANT INFORMATION: Please note that the left brake lever interrupts the power to the motor if it is pulled.
* Battery is not included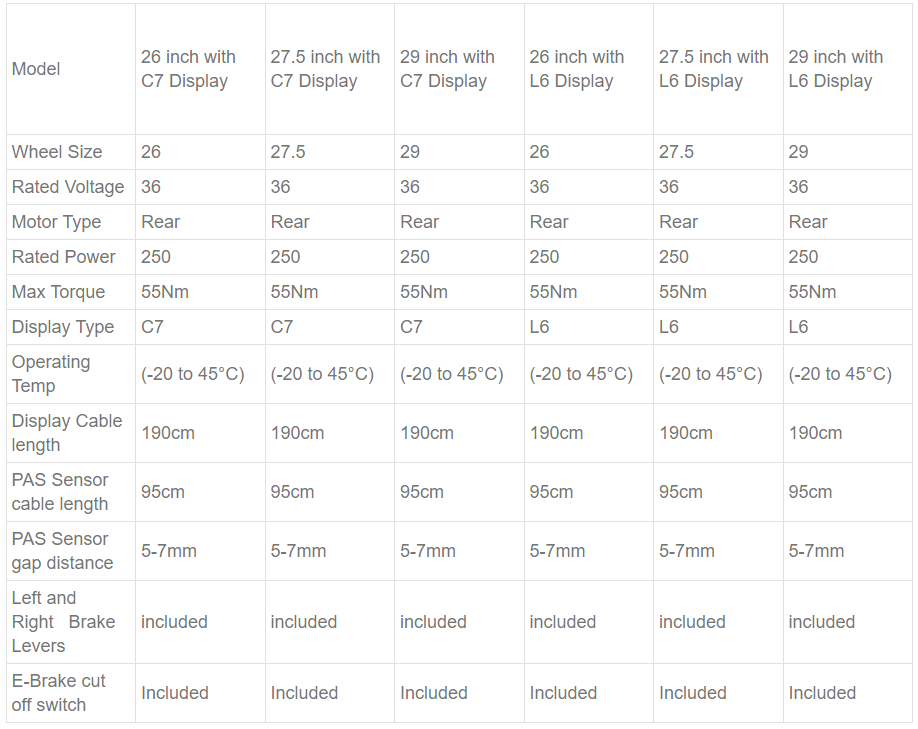 5 – DAS-KIT E-BIKE FRONT MOTOR CONVERSION KIT, 36V 250W WITH L6 DISPLAY 20″
Technical Specification
Motor: DC Brushless Geared Hub Motor
Controller: Brushless DC Motor Controller 14A
Display: LCD, On-Off, 6 levels of Pedal-assist mode, charge level
Accelerator: Thumb control + Pedal assist sensor (PAS)
Motor Power: 250W
Nominal Voltage: 36V
Wheel size: 20", 26", 29"
Front drive motor

Key Features
1x PAS disc
1x Motor wheel
1x Controller
1x Throttle
1x Left e-brake lever
1x Right brake lever
1x Display
1x PAS sensor
1x Motor connector cable
1x Display connector cable
6 – Full E-Bike Conversion Kit
Technical Specification
This electric bike kit is built to international standards and is CE certified with a powerful brushless hub motor. The brake levers which cut off the power supply to the motor makes for a more ergonomic experience while riding.
Key Features
This electric bike kit is built to international standards and is CE certified with a powerful brushless hub motor. The brake levers which cut off power supply to the motor makes for a more ergonomic experience while riding.
Pros.
Easier to install than most of the other available models
Cons.
Clunky look and feel.
FREQUENTLY ASKED QUESTIONS:
Are e-bike conversion kits any good? 
To put it mildly, e-bike conversion kits are the best value for money on the market. Most of them offer wonderful fit, great pricing, a host of hard to beat features and the opportunity to keep your old bike while you enjoy a brand new experience. 
---
Can you convert a normal bike to electric? 
For a long time, it was either difficult to achieve or impractical. Now, with the wonders of electric bike kits, you definitely can. While choosing, you also have a range of front, rear and mid-range based electric bike kit options at your disposal. Better still, you can make all the installations by yourself with a simple manual or simply search on the internet. 
---
What is the best conversion kit? 
As with most things in life, it depends on how much you are willing to pay. It also depends on what the specifics of your situation are. For general purposes and recreational use, the 26" 48V 1000W Rear Wheel Electric Bicycle E-Bike Motor Conversion Kit Cycling offers a sturdy combination of unbelievable power and reasonable price. Other kits on the list above have pros and cons that may make them more appropriate for your specific situation. For many people, an efficient ride to and from work is its utility and so cheaper, less powerful electric bike kits might suffice in that situation. 
---
How do I make my electric bike push? 
Some of the factors that may affect speed include the weight of the rider, the designated top speed of the electric bike, terrain and wheel size. For example, in most cases, a 350W hub motor can go at about 30km/hour. On the face of it, a 500W geared performance motor should go faster but when it is running on the same battery as 350W, it averages similar speeds with the much less powerful 350W motor build. 
---
How much does it cost to convert the bike to electric? 
Plainly put, when you factor in the cost of purchase, installation and logistics, you should be prepared to spend at least $1500 AUD. This is cheap compared to electric bikes which range between $3000 – $4000 AUD. Factoring the time cost of money, fuel and car maintenance costs, you can get savings that run into tens of thousands of dollars over the course of a year from using an electric bike kit. 
---
Which electric scooter is best? 
While we are talking about electric bike kits, scooters are also a keen interest of many bikers. They are easy to use, environmentally friendly and a good for value for money. For more details click here.
---
Conclusion
You're probably like me and my folks were a few years ago: in love with our old bikes or just looking for a new experience. Electric bike kits provide the perfect compromise between getting the rush of electric bike technology and maintaining the nostalgic and appeal of our old bikes. 
Not to mention, a good value for money. With either of the above listed ebikes conversion kits, you're guaranteed to get more speed, greater efficiency and an unbeatable experience on uphill or rough terrain rides.
While it all sounds cushy, it's important to weigh all the available options for mobility depending on the environment (terrain), utility, cost and design appeal. Whatever you choose, you'll probably enjoy it. Like I did – For me, and I know for you too, electric bike kits are a definite YAY!!!