E-scooters have become much loved and loathed by many Aussies in recent times. The year 2019 brought a new lease of life to the technology with the much-anticipated launch of Lime electric scooters and an incredible growth spurt of private purchases from local retailers around the country.
Although it is likely that the Coronavirus pandemic will increase demand due to social distancing requirements and health concerns, many citizens and residents of Australia still consider electric scooters to be a problem domain rather than a solution.
While government regulations remain incoherent at best, a lot of people believe electric scooters are a scourge and negative influence in many cities across the country. To this end, this article lays out a comprehensive list of valid concerns and potential citizen-driven solutions that might minimise the technology's negative aspects and maximise its many obvious benefits.  
Cons of e-scooter use in Australia and potential solutions
---
Electric scooters are accident prone
Problem statement
In a medical report published in the journal of JAMA surgery, between 2017 and 2018, e-scooter accidents rose from about 8000 to just over 14,000. For a technology that reserves the promise to bring the transportation of smart cities of the future, this statistic is quite simply, untenable. Some of the reasons for the accident-prone nature of e-scooter riders include the fact that in many cases, there is no requirement for rider training before purchases are cleared.
---
Potential Solution
Local governments need to collect and maintain a database of e-scooter users in the cities around the various regions, also, they need to establish city-specific guidelines for use, training programmes for e-scooter users and impose strict penalties and fines when users run afoul of the law.
While some existing laws may make local action difficult, residents of small towns can petition their local and governments to this end. While this is unlikely to completely eradicate accidents, proper education on electric scooter use, police action, and the threat of fines and penalties will incite obedience among many riders.
---
E-scooter piles are an eyesore
Problem Statement
For a variety of reasons that have to do with manufacturing cost and the economics of scale, brand image assertion, and market strategy, many share services have the negative effect of market over-delivery. As a result, small cities that should not have more than 200 – 300 e-scooters may receive around 5,000.
Because of the over-supply, and effect on user behaviour, riders can often be seen taking e-scooters on trips short enough for a walk and obviously, nowhere near the docks. This results in untidy piles of shoddy looking e-scooters just about everywhere.
---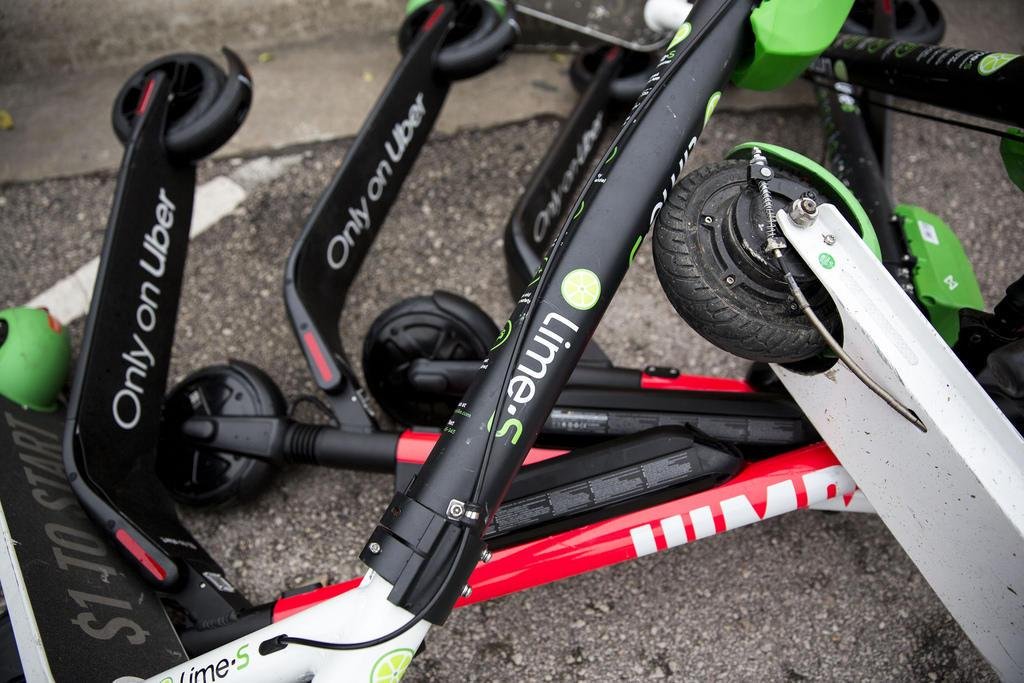 ---
Potential Solution
Local governments and community groups need to make the correct assessments of how many e-scooters are necessary at one time or at the very least, phase their supply according to current market demands.
Also, ride-sharing companies are the principal owners of the e-scooters and to that end, they need to ensure that they go above and beyond automated solutions like account cancelling to employ staffers that keep the fleet out of a pile and in good working condition.
---
Lack of tenable solutions
Problem Statement
While accidents can be prevented to a large degree, they are sometimes inevitable. Where cars and other conventional forms of transportation are involved, insurance companies usually make it possible for the aggrieved party to receive full recompense for loss in most cases.
Unfortunately, while these companies readily insure e-bikes, many of them still consider e-scooters an unknown category and are reluctant to take on the risk involved. As a result, victims and others involved in e-scooter accidents may not receive any benefits regardless of loss. While they can decide to take legal action, the high costs of legal fees may quickly overshadow the potential benefit of a pay-out.
---
---
Potential Solution
In recent times, e-scooter companies such as Line have begun to share some non-intrusive data from its platform with regional and federal governments in Australia in a bid to drive regulation.
They also need to provide the insurance companies with the accident and non-itemised user location data as this will enable them (insurance companies) to model the risk profile involved with their use over time and come up with useful products that'll provide adequate coverage in the event of an accident.
---
E-scooters are easy to lose:
Problem Statement
For many private owners in Australia, e-scooters are considered to be a short term, low-cost option for transportation. This is because in many cases, e-scooters can be stolen quite easily.
This extra bug in an otherwise incredible line up of features can lead to feelings of discomfort and negatively offset the seamless convenience of its use. While many ride-share companies actively track and collect location data, and own docks, private e-scooter owners do not enjoy these benefits and are a lot more prone to thieving individuals.
---
Potential Solution
One potential solution is to buy a handy, foldable e-scooter that fits beautifully in your grasp or a bag pack. Another solution is for existing ride-share companies to rent their dock per hour of use by private owners. While the latter solution might require some engineering retrofitting and redesign, it might very well be a profitable new revenue channel and a much-needed value for e-scooter owners in Australia.
---
Conclusion
While electric scooters are a great way to get around, they also have several significant drawbacks at the moment. While none of the suggestions above will yield a complete solution, they can help to set e-scooters back in the right direction as the transportation for cities of the future.
If you decide to purchase an e-scooter, ensure that you take some time to collect information from this website, and others like it about your model of choice as small design and engineering differences between the models may meaningfully impact your experience in the long term.