For the many Aussies who have decided to make the switch to e- bikes, suspension forks hold an immense advantage. While some choose to go without them, if you're looking to ride your e-bike in more rugged terrain on hills, mountain passes, or in the smaller towns, then you probably need them. It is also important to note that there are full suspension electric bikes which carry a front suspension and a rear shock.
Not only do suspension forks improve your overall experience by providing high impact absorption as well as a sense of safety and security on all your rides, but they also allow for a powerful grip and accurate front wheel tracking as well as an overall stabilising effect on your overall experience. Whether you're looking to buy an e-bike or already own one, suspension forks are an important consideration. The section below is a candid review of things to look out for when choosing a built-in suspension fork or upgrading to a new one.
Factors to consider: Choosing a suspension fork
---
Wheel Size
While you might want to get out there and snap the first suspension fork you find, you probably shouldn't. If you're not already familiar with the dimensions of your wheels, you need to do a basic check. While some wheels carry clear labels, with others, you might need to speak to your local retailer or do a basic search on google to get accurate dimensions.
---
Beyond this, you need to figure out what suspension forks match perfectly with your wheel size and you're well on your way. Some of the key words you may encounter in your research include: full suspension forks, coil, and air-sprung suspension and e-bike axle's. The section below provides useful, up-to-date information on the things you need to look out for.
---
Axle Dimensions
After you've done all you can to ensure that the suspension fork matches perfectly with your wheel size, you need to ensure that its dropouts match your front wheel's axle. Smaller commuter e-bikes with front hubs usually come with a 9mm axle and 5 mm quick release system.
---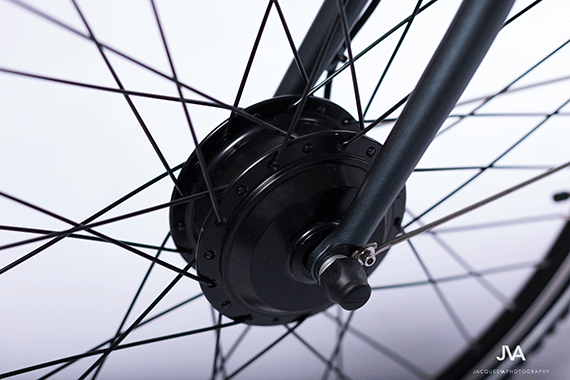 ---
For dirt bikes, mountain e-bikes, and others in the rough-terrain use category, 15mm – 20mm thru-axles are employed as they are heavier and more durable under high-impact conditions. To pull this off, you need to figure out what your e-bike axle diameter is. First, slip out the front wheel of your e-bike and measure the current diameter to see if the suspension fork will fit.
---
Head Tube Dimensions
Next, you need to figure out what the diameter of your head-tube is. This is because your suspension fork needs to fit into these other components without creating friction or disrupting the alignment. Your steerer tube is the bit that connects your suspension fork to your handlebars and makes it possible to change direction while you use your electric bike. Most modern bikes have a 1 1/2 inch steerer tube.
---
There's also the tapered steerer design which removes the narrow waist at the fork crown and steerer. When the alignment is well done, this design allows the support from the fork legs to go up through the crown and steerer tube in a seamless way thereby concentrating strength in the more vulnerable parts. You may also want to opt for a reducer which is a modification that allows the lower part of the steerer to fit with some allowance.
---
Air Vs Coil Sprung: Which do you prefer? 
After you've gone through the whole bit screwing, measuring, and doing your best not to cause more damage than necessary, the next step is to choose the air-sprung coil over its alternative. As you might have guessed by their names, the air coil works around a compartment of compressed air while the coil uses a spring in its function.
---
However, the major difference between the two lies in the fact that with air-sprung coils, you can adjust the air pressure to suit the rider's weight with a fork pump. On the other hand, coil-sprung suspensions have to be suited by design for the rider's weight or replaced when it isn't a perfect fit. If you're opting for a coil-sprung fork because of its price, you need to make sure it works for your weight.
---
Suspension Travel
Fork travel refers to how much load a fork can compress. When its affordable, a lot of people opt for the suspension that has the most travel. 80mm forks can usually take a ride across state while high-impact 200mm forks can take a real beating in rough terrain. As a result, integrating a high-travel fork with a less adaptable frame will alter the front-end of your bike and might lead to problems as it wears over time.
---
---
Whatever you do, speak with your local retailer or if possible, the e-bike manufacturer on information about how much load your e-bike can take. This is because your electric bike is designed to a tee to serve a specific function within the scope of highly defined engineering specifications and changing the suspension fork without enough consideration might hurt the durability and diminish rider experience. Adjustable travel forks solve this problem to some degree as they usually range from 120mm – 160mm of allocated travel load.
---
Conclusion
Whether you're looking to buy a mountain electric bike or make modifications to an electric bike you already own, all the initial installation steps all require you to figure out whether all the components you'll be working with can fit into your electric bike without friction. Next you need to decide whether you prefer your suspensions to be air or coil-sprung.
While a coil-sprung is cheaper and probably ideal for lone-rider, air-spring suspensions offer a more dynamic experience and can work in spite of who's riding or how much they weigh. Finally, you must take the proper precaution to ensure that you speak to someone with the relevant technical knowledge as that reduces the probability of mismatch between your suspension fork and the frame of your electric bike.